Louis P. Bucky, MD, FACS
Founder & Chief Plastic Surgeon
Dr. Bucky's Vision for The Bucky Body Center
Throughout his 25 years of experience in plastic surgery, Dr. Bucky has always continued to identify and contribute to advancements and refinements in the field to bring the best results and safest experience to patients. With his unwavering commitment to top patient care, Dr. Bucky quickly realized that many of the treatments he pursued to expedite recovery and optimize results for his surgical patients also had great beauty and health benefits that would resonate with people who simply sought general wellness and also desired effective non-surgical cosmetic enhancements.
After years of curating through the most highly effective technologies and building three plastic surgery, injectable and skincare offices in Philadelphia, Dr. Bucky recognized an opportunity to bring a unique space to the area – one that intrinsically balances wellness and beauty, serves as a place to both heal and improve oneself, has a laser-focus on just the body, and that only features non-surgical or minimally-invasive treatments – all under one roof! Now, those recovering from surgery or an injury have a place to heal faster, those looking for cosmetic enhancements without surgery have a place to make effective change, and those seeking to boost overall wellness have a safe, comfortable and medically-powered space to routinely do so with the opening of the Bucky Body Center.
At the Bucky Body Center, Dr. Bucky will perform minimally-invasive procedures such as BodyTite and Microsuction to reshape and remodel the body for improved contour and rejuvenated body appearance. His world-renowned artful and gentle aesthetic techniques create lasting results with minimal recovery. And most importantly, Dr. Bucky and his esteemed staff are there for you every step of the way on your body enhancement journey.
Why Choose Dr. Bucky?
Education and Experience
Dr. Louis P. Bucky is an internationally renowned Board-Certified Plastic Surgeon in Philadelphia, PA, with multiple offices in both the city and Main Line suburbs. After receiving his medical degree at Harvard Medical School, he went on to complete residencies in general and plastic surgery at Massachusetts General Hospital in Boston, MA. In an effort to pursue the most advanced training available, he then participated in a Fellowship in Breast Cancer Reconstruction at Memorial Sloan-Kettering Cancer Center in New York City, and a Fellowship in Craniofacial Surgery at Miami Children's Hospital; Dr. Bucky was the proud recipient of regional and national honors in both cosmetic and reconstructive plastic surgery while completing both fellowships. He is also a Clinical Professor of Surgery in the Division of Plastic Surgery at The University of Pennsylvania School of Medicine.
Memberships and Affiliations
Member of American Society of Plastic Surgeons (ASPS)
Member of American Society for Aesthetic Plastic Surgery (ASAPS)
Member and former President of Northeastern Society of Plastic Surgeons (NSPS)
Member of Member of the American Association of Plastic Surgeons (AAPS)
Fellow of the American College of Surgeons
Former chairman of the Perspectives and Advancements of Plastic Surgery Symposium, which is sponsored by the Plastic Surgery Education Foundation
Chairman of the Allergan Breast Aesthetics Executive Council, an advisory board of ten world-class pioneers in cosmetic and reconstructive breast surgery
Scientific Research and Publication
During decades of in-depth research and clinical experience on facial aging, Dr. Bucky has pioneered advanced techniques that amplify a patient's results following a cosmetic procedure. Because of his expertise, Dr. Bucky is often recruited to educate fellow surgeons on his techniques, and was recently filmed live in the operating room by the National Cosmetic Network.
To augment his role as educator, Dr. Bucky is a prolific author, with bylines on over 100 publications in distinguished industry journals. He has earned the respect and admiration of both his peers and patients as the recipient of many honors for his research on breast reconstruction, melanoma, and fat transplantation. Dr. Bucky has repeatedly been featured on CBS News, Good Morning America, Fox News, CNN, Allure, Self, and many more.
Philadelphia's "Top Doc" Since 2001
Dr. Bucky displays his masterful surgical skills in more than 1,000 cosmetic procedures each year to the face and body. He is passionate about helping patients achieve their goals and throughout his years in practice has cultivated a reputation built on excellent patient care paired with exceptional results. Dr. Bucky is proud to receive annual recognition from Philadelphia Magazine, having been named Plastic Surgery's "Top Doc" consecutively every year since 2001. Dr. Bucky has also been honored by Castle Connolly, a top-rated publication profiling "America's Top Doctors" in cosmetic and reconstructive plastic surgery.
Recent Press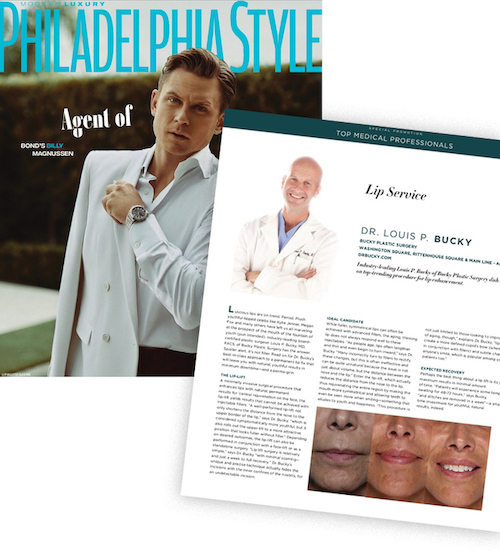 We invite you to read Dr. Bucky's recent feature in Modern Luxury's Philadelphia Style on "THE LIP LIFT," one of his most popular minimally-invasive procedures.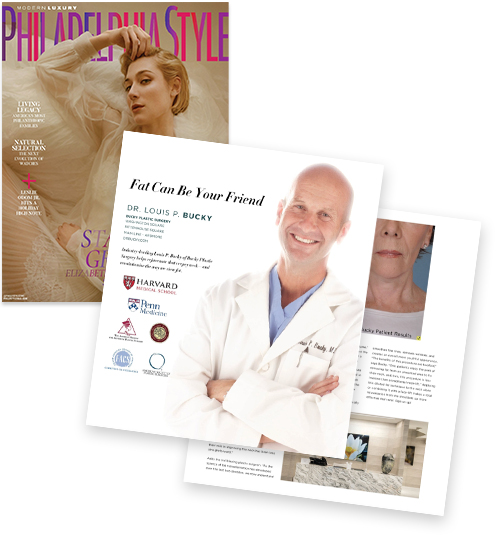 Check out Dr. Bucky's latest feature in Modern Luxury's Philadelphia Style Magazine.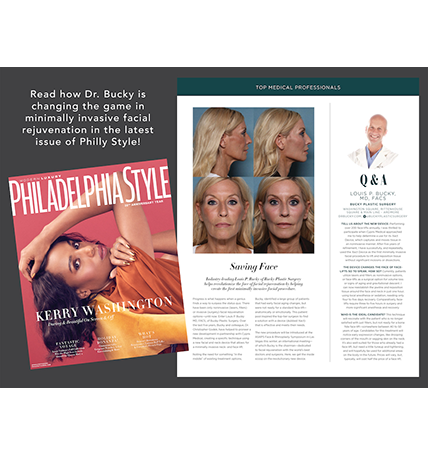 Don't miss the full-page feature on Dr. Bucky in the November 2019 issue of Philadelphia Style!